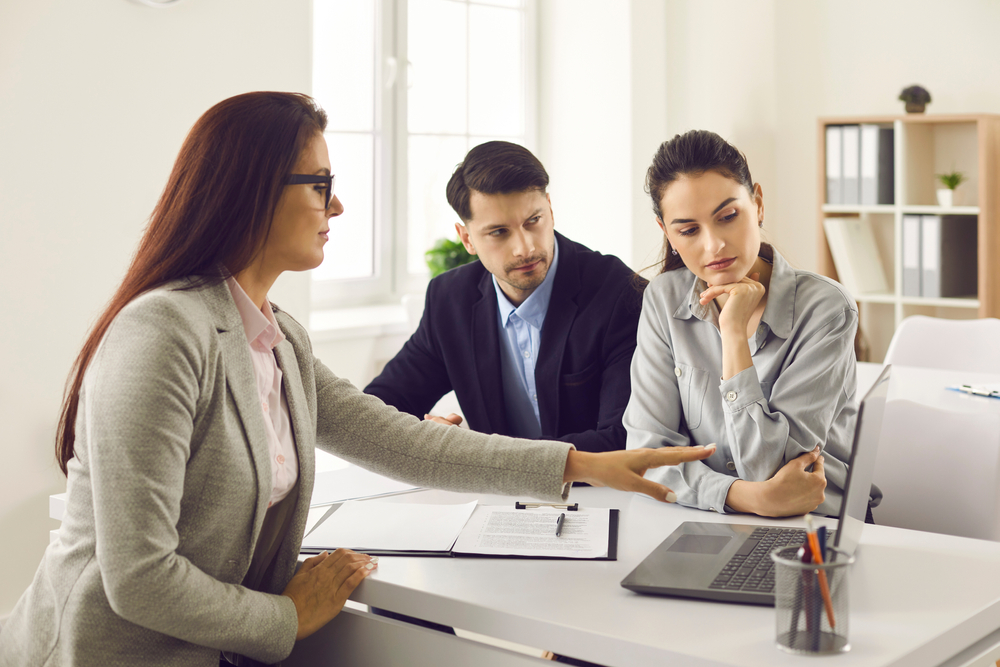 Make Sellers' Agents Know You Are a Serious Buyer
How to Make Sellers' Agents Know You Are a Serious Buyer
Today's housing market is experiencing increased competition. With lower housing inventory and fast-moving buyers, bidding wars and competitive offers have become more common. As a result, buyers may need to act more quickly to have an edge in this crowded landscape. 
Verify your mortgage eligibility (Dec 9th, 2023)
One way to maintain that edge is knowing how to signal to a seller (and their agent) that you are serious and ready to make a deal. But unfortunately, one side-effect of the competition is the drop-out rate: potential buyers who place bids and then disappear from the process. 
The reasons vary, from not being able to secure final loan approval to having made multiple bids to safeguard against the competition. 
Whatever the reason, sellers and sellers' agents often favor buyers who are grounded, serious, and ready to move forward.
Verify your mortgage eligibility (Dec 9th, 2023)
How can you make your sellers' agent know you are a serious buyer? Approach your offer in a serious way. Here's how to show your sellers' agent that you are genuinely ready to buy and will close your deal promptly after due diligence and negotiations are complete.
1) Get Your Mortgage Locally Pre-Approved
The first step is to acquire mortgage approval with a lender in the state and region where you plan to buy. For example, if you're moving to California from another state, you'll need a California lender with good rates to approve your mortgage. If you don't yet have a lender, POP mortgage can help you compare rates and find the ideal loan for the homes, budget, and region in which you plan to buy.
Once you find a lender, submit your mortgage application and get pre-approved. Pre-approval means that the loan is ready to activate as soon as you close negotiations. In addition, a pre-approval letter shows sellers that you are financially prepared to buy and won't be dropping out at the last minute due to bank issues.
Verify your mortgage eligibility (Dec 9th, 2023)
2) Print a Custom Pre-Approval Letter for Each House Offer
To go one step further than a general pre-approval letter, you can obtain a custom pre-approval letter for every house and offer that you make. Ask your bank to send you a custom letter indicating the house's address and seller and the amount you plan to bid. A custom letter not only shows sellers that you and your bank have talked about their specific property, but it employs what is known as an "anchoring" tactic, setting the tone for negotiations. 
Verify your mortgage eligibility (Dec 9th, 2023)
3) Have a Local Inspector On-Call for Due Diligence
Every home purchase should start with an inspection using a neutral third-party home inspector. This step in your due diligence process ensures the home is in good repair and that you are prepared to accept it in its current state. Being ready to inspect quickly is vital in a competitive buyer's market; having an inspector lined up shows sellers that you are serious about the due diligence process. It also indicates that you are serious about buying.
4) Write a Letter About Why You Want to Buy the House
Sellers' agents can field dozens of bids for a similar value, with little guidance on which buyer to choose. One of the best ways to stand out and express your passion for the home is to write a letter. You can write about how much you love the house, what you love about it, and even how you see your family occupying and caring for the home. You can share memories about how the home reminds you of your childhood home. Finally, you can express your aspirations for raising a family or building your career in the house.
Verify your mortgage eligibility (Dec 9th, 2023)
A moving letter can help sellers choose you as their buyer and shows that you have crafted a vision for your personal investment in the home. Be sure to consult with your mortgage or real estate professional before crafting a letter. They may have some insight about the seller or sellers' agent; they can also let you know if the state has any restrictions on these kinds of letters, which, while rare, can exist.  
5) Offer a Few Key Negotiation Concessions
Let the sellers' agent know you are ready for negotiations and mention one or two concessions you would offer. Buyer concessions include things like leaseback (extra time for sellers to move out) or covering more of the closing costs on the seller's behalf. So not only are you showing that you are prepared to negotiate, you are adding value to your offer from the seller's perspective.
Verify your mortgage eligibility (Dec 9th, 2023)
6) Indicate That You Are Prepared for Escrow and Closing Costs
Even buyers with mortgage pre-approval can drop out from poor planning when it comes to financial preparedness. Escrow and closing costs go beyond the cost of your loan and downpayment, and not all buyers can cover these costs. Let the sellers' agent know that you've done the calculations and that your finances can cover the offer and the necessary before-and-after costs of home buying. You will show that you understand the financial package and are ready to complete the home-buying process. If you're unsure what your escrow and closing costs will be, ask your POP mortgage loan agent to outline your budget before making an offer.
Verify your mortgage eligibility (Dec 9th, 2023)
7) Offer to Match the Highest (Validated) Bids
Are there competing bids within your price range? If your seller isn't sure which bid to accept, offer to match a higher bid – provided that bid is verified. Don't let your price get driven up by drop-out bidding wars (people who bid more than they can manage and then disappear). If your seller is debating between you and a slightly higher pre-approved, validated bid, offer to match it to win the house.
8) Make Yourself Available and Respond Promptly to Messages
Don't ignore your sellers, even by accident. Talk with your real estate agent and make a plan to ensure that your sellers or their agent will always reach one of you if they call. Better yet, make sure that they receive an email or text response within a few hours of the call. Considering the number of buyers that drop out, today's sellers can quickly write off a buyer they can't reach. Finally, be in touch so that your sellers know you – or your agent – are readily available to discuss your bid.
Verify your mortgage eligibility (Dec 9th, 2023)
9) Bring the Family on a Follow-Up Tour
Finally, show you are serious by bringing your family to see the house again. After making a bid and showing the sellers that your desire to purchase is earnest, you can emphasize your interest with a family visit. Bringing a spouse, kids, and even parents can send a message about how you see your future in the house and can impact sellers. And just as you should do with a letter to the sellers, consult with a real estate professional before taking this step.
Verify your mortgage eligibility (Dec 9th, 2023)
We Are Ready to Help You Close
If you are ready to buy a home, we are ready to make it happen. Our team of lenders and brokers is uniquely prepared to streamline your mortgage pre-approval and guide you through a successful home buying experience.
All content has been written and provided by leadpops.com
Show me today's rates (Dec 9th, 2023)